****Due to unforeseen circumstances we have had to reschedule our planned May co-production sessions. Please find revised rescheduled details here *****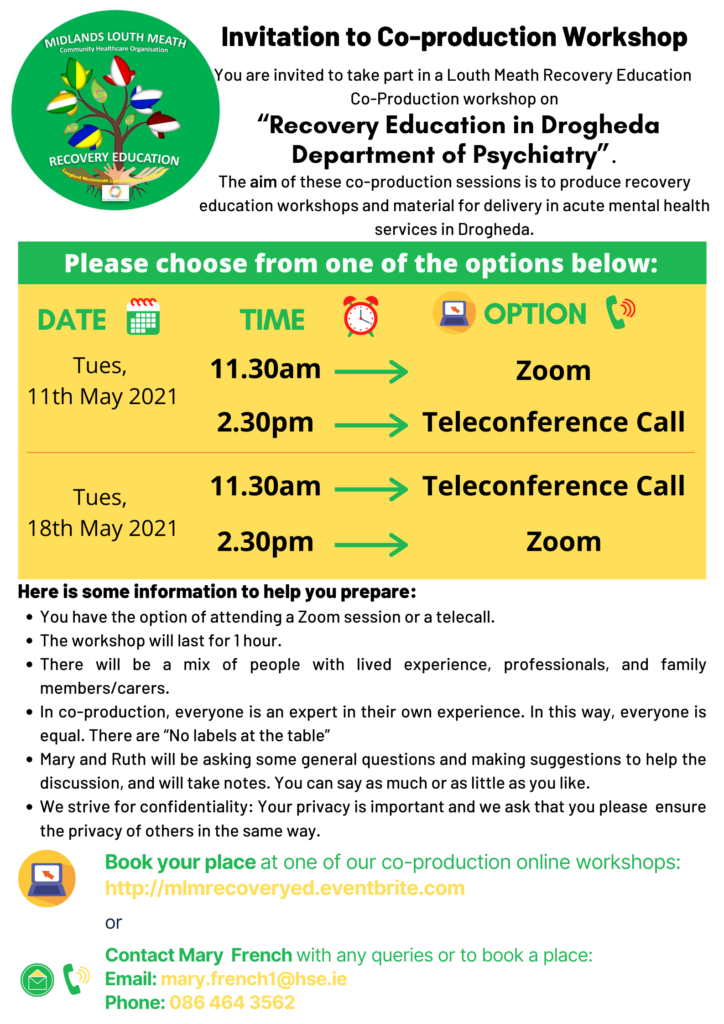 Invitation to Louth Meath Co-production – pdf
Do you have experience of Drogheda Department of Psychiatry as a service user, a family member/carer or as a member of staff?
If so, then you are invited to attend a Louth Meath Recovery Education Co-production workshop on "Recovery Education in Drogheda Department of Psychiatry" where your knowledge and expertise can add significant value to new Recovery Education material to be delivered on the unit.
Aim
The aim of these co-production sessions is to produce recovery education workshops and material for delivery in acute mental health services in Drogheda.
When?
You can choose to attend one of four options:
Tuesday 11th May:
11.30am-12.30pm on a Zoom session
2.30pm-3.30pm on a Teleconference Call
Tuesday 18th May:   
11.30am-12.30pm on a Teleconference Call
2.30pm-3.30pm on a Zoom session
How do I sign up/get details to attend?
You will then receive log in details for the Zoom or Teleconference call you have chosen to attend.
Contact:
Mary French, Peer Educator for Louth Meath Recovery Education.
086 4643562
Social Share