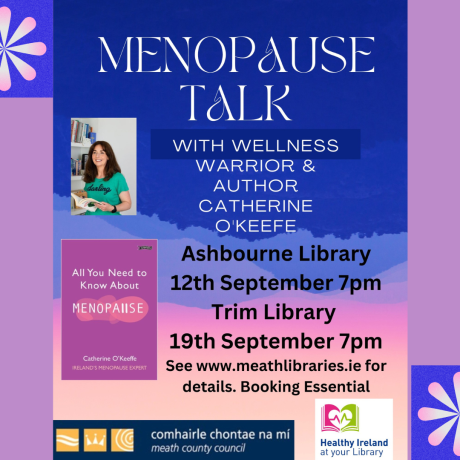 We are delighted to have 'Wellness Warrior' & menopause author Catherine O'Keefe with us this Autumn. Catherine is a Menopause Workplace Consultant, founder of Wellness Warrior, and creator of the Menopause Success Summit. Catherine is the author of the best seller All you need to know about menopause. She helps organisations implement a comprehensive menopause strategy that leads to meaningful change. Catherine is on a mission to shatter the menopause taboo, for good.
Booking is essential for both sessions. Please contact the relevant library to book a place.
These events are part of our Healthy Ireland at your Library programming.
Tuesday, 12th September at 7.00 p.m.
Contact the library on 01-8358185 to book a place.
Tuesday, 19th September at 7.00 p.m.
Contact Trim Library on 046 9436063 to book a place.
You'll find more information about Catherine on her website and if you are interested you borrowing her book you can reserve a copy on our Online Catalogue
Social Share