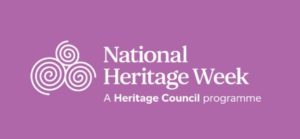 National Heritage Week 2022
National Heritage Week, an initiative by the Heritage Council, celebrates all things heritage. It brings together communities, families, organisations, cultural institutions, academics and enthusiasts, to build awareness about the value of heritage and support its conservation.
This year, we are celebrating the full return of in-person events as well as continuing with digital heritage projects which attracted so many new people to National Heritage Week over the last two years. The Heritage Council invites individuals, communities and organisations to develop Heritage Week in-person events and / or digital projects. The overarching theme for National Heritage Week 2022 is sustainability and organisers are asked to consider sustainable heritage in all its forms. Organisers are also invited to explore biodiversity through events and / or projects.
Further details are available here: https://www.heritageweek.ie/
Meath Events:
Events taking place place in Meath over the course of Heritage Week can be found here:
https://www.heritageweek.ie/event-listings?q=&where%5B%5D=meath#listings
Social Share