Following the launch of our new EEA Norway Grants funded youth project StayOn, Meath Partnership are delighted to announce our three free skills training workshops to help young people in the area to gain valuable skills for employment.
Based in Co. Meath during March & April, 2022, our skills workshops include:
Construction Safety Skills: Safe Pass and Manual Handling (March 23rd & 24th; location – Navan)
Hospitality Skills: HACCP & Food Safety, Knife Skills & Allergen Awareness (March 29th & 30th; location – Kells)
English Conversation Skills: Improve your English language skills while meeting new people (Tuesday mornings, commencing April 12th; location – Navan)
Please see posters below for additional information.
These workshops present exciting new and innovative opportunities for young people in County Meath and its surrounding areas, who are aged between 25 – 29 and are not currently in employment, education or training, to learn new skills, meet new people, strengthen their connections within their communities, and begin their journey to their future careers.
Each participant will receive a certificate of attendance upon completion, with accredited certificates for our Hospitality and Construction Safety Workshops.
We are eager to help as many young people as possible to take part in this excellent opportunity, however, places are limited so early booking is essential.
If you know of a young person that would like to take part in one of our StayOn Project Training Workshops, registration can be accessed via this link.
For more information, please contact Jennifer Smith by email jennifer.smith@meathpartnership.ie or telephone: 085 8622497.
Our project website is available here : https://www.stay-on.eu/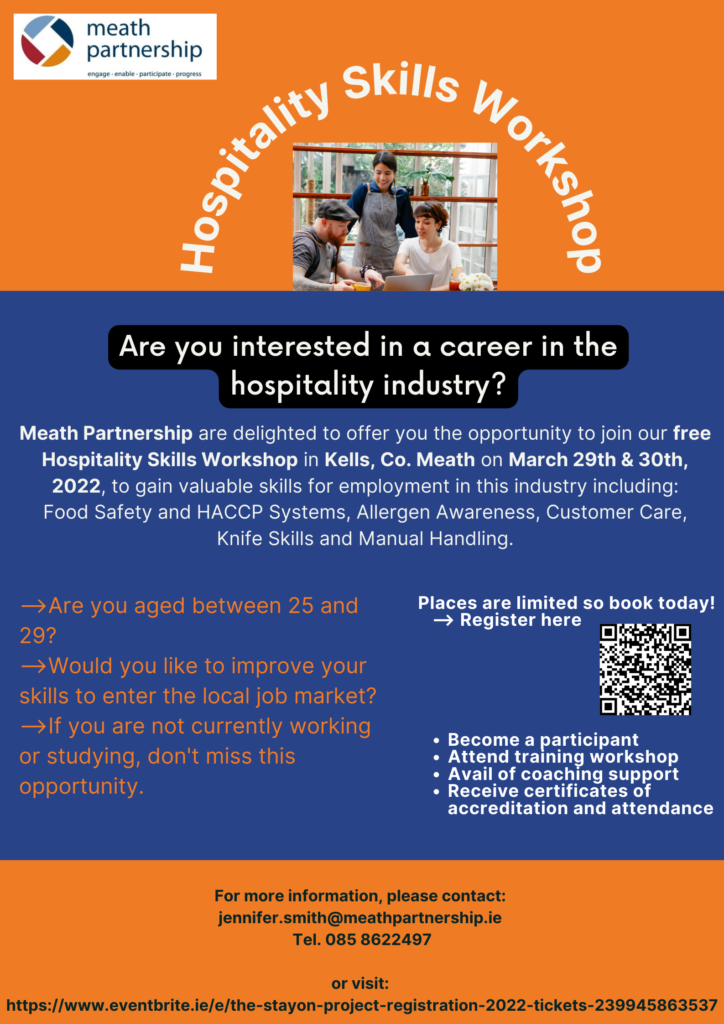 Social Share