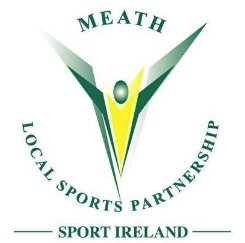 Please see Meath LSP's planned programmes below. All programmes are delivered whilst adhering to current public health guidelines.
Men on the Move
Meath Running Group
Dance for Life 50+
Sprocket Rocket Tutor Course
Sports Inclusion & Disability Awareness Webinar
Primary School Programmes
Run Jump Throw Programmes
Community Sports Hub Navan
Men on the Move
Men on the Move is a 6-week exercise programme designed for men 30yrs+, to improve their overall health & physical fitness. Suitable for complete beginners. Men are welcome to come along and try out a session! For more information see https://www.meathsports.ie/women-in-sport/men-on-the-move/
Meath Running Group
Meath Running Group will start 2022 with a 6 week 'Build your Endurance' programme which will focus on steadily improving your endurance and building a good foundation for the year of running ahead. The programme is suitable for anyone running 5k and over.
Meath Running Group – 'Build your Endurance' programme will start Wednesday 16th February at 7.30pm in Blackwater Park, Navan. Cost is €30 for 6 weeks.
To book please see: https://eventmaster.ie/event/DP6eTmAcJr
Dance for Life 50+
Dance for life for all adults 50yrs+ is back! This 6 week programme will include in various types of line dances such as slow waltz, cajun skip and many more! This programme is ideally suited for older adults as it provides social interaction whilst improving many health benefits. It will help improve balance, agility, strength and flexibility.
Kells – starting Thursday 17th Feb at 10:30am in Eureka House
Trim – starting Friday 18th Feb at 12pm in Trim GAA
Navan – starting Friday 18th Feb at 10:30am in Claremont Stadium Navan
If you would like to take part, please contact Luke @ luke.condie@meathcoco.ie or on 046 9067337. Spaces are limited so make sure you don't miss out!
Sprocket Rocket Tutor Course
The Sprocket Rocket Tutor course is a one-day course which is a mix of classroom work and practical outdoor experience.
The course is open to anyone and while some cycling or coaching experience is helpful it is not essential. After the course you are fully qualified to deliver the Sprocket Rocket programme which is developed for children aged between 5 and 12 years.
Participants are taught four FUNdamental cycling skills, balance, braking, cornering and pedalling by qualified Sprocket Rocket coaches.
Date: Saturday 26th February
Time: 9am – 4pm
Cost: €40 Cycling Ireland members / €50 non-Cycling Ireland members
Venue: Claremont Stadium, Navan
For more information please contact Una Pearson at 0469067337 or email upearson@meathcoco.ie
Sports Inclusion & Disability Awareness Webinar
Meath LSP in conjunction with Cavan Sports Partnership are delighted to host a Sports Inclusion Disability Awareness Webinar in February!
This FREE webinar is aimed at people who are interested in taking the first step in making their activities inclusive.
Date: Tuesday 15th February
Time: 7pm-8:30pm
Venue: Zoom
Cost: Free
How to book: For more information or to book contact Terry Donegan on 046-9067337 or email tdonegan@meathcoco.ie
Meath LSP are introducing two new Primary School programmes! 
Olympic Handball – Meath LSP & Irish Olympic Handball Association (IOHA) are working together to introduce an Olympic Handball School programme for primary schools in Meath in 2022. Together we are working to increase participation rates in the sport of Olympic Handball and increase opportunities for children to experience new activities.
Basketball – Meath LSP and Basketball Ireland have teamed up to introduce a new Schools Basketball programme for primary schools.
The proposed school programmes will consist of:
Teacher training
Ball and bibs supplied to schools
Teacher training resources
School visits from qualified coaches
School blitz
These programmes are available to all primary schools in Meath who would like to incorporate Olympic Handball and Basketball as part of their school sports curriculum.
For more information please contact Lisa ODowd at lodowd@meathcoco.ie
Run Jump Throw
The Run Jump Throw programme is delivered over 6 weeks and is aimed at children with Autism / Intellectual disability aged 5-12 years. The sessions include a variety of sports, fun games and obstacle challenges all adapted to the participants needs. The programme aims to improve the participants' fundamental movement skills and increase their confidence in participating in regular physical activity. The involvement of siblings is encouraged during the programme.
Run Jump Throw Bettystown
Date: Wednesdays March 23rd – April 27th
Venue: Coláiste Na Hinse Bettystown
Time: 5pm-6pm
Cost: €10 per family
Run Jump Throw Navan
Date: Mondays March 21st – April 25th
Venue: Claremont Stadium Navan
Time: 4pm-5pm
Cost: €10 per family
Run Jump Throw Kells
Date: Tuesdays March 15th – April 19th
Venue: Eureka House Kells
Time: 5pm-6pm
Cost: €10 per family
Run Jump Throw Dunshaughlin
Date: Thursdays March 24th – April 28th
Venue: Dunshaughlin Community Centre
Time: 5pm-6pm
Cost: €10 per family
To book a place, please contact Terry at tdonegan@meathcoco.ie or call 046-9067337.
Community Sports Hub Navan 
The Community Sports Hub Navan 2022 is kicking off in late February!
Please see https://www.meathsports.ie/community-sports-hub-navan/ for details of all programmes and for booking links.
Registration is mandatory for all programmes. For more information please contact Una Pearson at 046-9067337 or email upearson@meathcoco.ie
Social Share