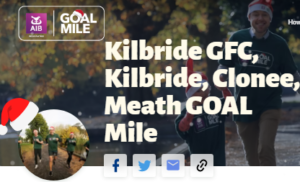 All the community groups in Kilbride are coming together to organise a GOAL Mile on St Stephen's Day at 12 noon at Kilbride GFC Grounds.
We are hoping to make the event truly a community event for all age groups in our community and wider and will be linking up with the Tidy Towns, GAA, Scoil Bhride, Scouts, ICA, Church, Lawn Bowls and other community groups, businesses and residents to support this fun event.
We hope that it will be a great opportunity for the community to meet up in a safe environment on the day and add to the Christmas spirit as well as, of course, raising funds for the fantastic charitable organisation GOAL
This is particularly so, when it looks like that there will be some restrictions around many indoor social meeting-up opportunities over the Christmas period.
It is the only GOAL MILE in south Meath and may be of interest to anyone in the locality, particularly in Kilbride, Ashbourne, Dunboyne, Ratoath, Clonee, etc.
For those who might be unsure if they can attend there is an option to do the GOAL Mile virtually by oneself or with family or other groups and register participation through the GOAL website, linking your participation to the Kilbride GOAL
Lots of information on GOAL and the GOAL Mile initiative are available on the following link.
https://www.goalglobal.org/goal-mile/
Please find a link to the Kilbride GOAL Mile fundraising page below:
Social Share