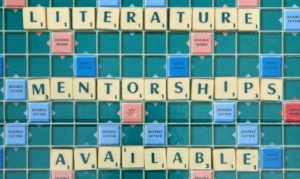 Are you a new, emerging or published writer? Would you like professional help with your current work-in-progress?
Meath County Council Arts Office is supporting the Words Ireland National Mentoring Programme, which will ensure that at least one writer or poet from County Meath will benefit from a literature mentoring relationship.
The opportunity is open to poets, fiction writers, children's writers and creative non-fiction writers. The mentoring process involves 4 x two-hour meetings between the selected 'mentee' and their chosen professional writer over a 6–8 month period. The mentor will read up to 10,000 words of the mentee's prose, or a selection of poems, in advance of each meeting and share their critical feedback and advice. The work in progress of the mentee is discussed in depth.
Applications must be made via Submittable.
Selected mentees can meet mentors via Skype or Zoom, though we'll be encouraging in-person meetings as soon as that's viable.
Full application details are available here: https://wordsireland.ie/national-mentoring-programme-2021/
Deadline is noon on Thursday 22 July 2021.
Social Share