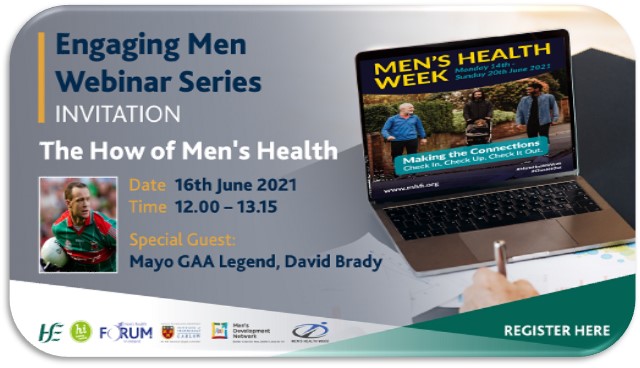 Men's Health Week 2021 will run from Monday 14th – Sunday 20th June.
You can find out everything that you need to know about the week / how to mark it / where to get resource materials at: https://www.mhfi.org/mhw/mhw-2021.html
Many events will be taking place across the island of Ireland (both online and offline).  One of these will focus upon helping organisations and practitioners to engage more effectively with men around their health and wellbeing.  This free event – titled 'The How of Men's Health' – will take place on Wednesday 16th June 2021, from Noon to 1.15pm.  Registration for the webinar is available at: https://tinyurl.com/2vct28jt
At this event, you will hear from local projects about: the fears that some men have about joining a health programme; key elements of the engagement process; and practical examples of how to connect effectively with men.  The special guest is Mayo GAA legend David Brady who, during COVID, found a unique way to connect with men through a shared interest in Gaelic Football.
Social Share