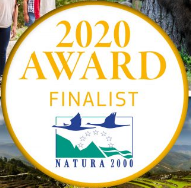 The Living Bog raised bog restoration projechas been nominated for one of Europe's top environmental awards
The Living Bog, which commenced in 2016 and finishes this December 2020, is among 27 finalists for the European Commission's Natura 2000 Awards.  The awards recognise excellence in the management of Natura 2000 sites.
The Living Bog is nominated in the 'Community' category, with the bog project's work in the local community and its involvement of community groups and individuals.
Information on the project is available here: http://raisedbogs.ie/
It is the project's work in communities that has been recognised by the EU. An active programme of community events, from walks and talks to children's nature camps saw the Living Bog project establish a foothold in local communities. Community volunteers gave up many hours of their time to assist at project events and also to help on many project actions.
Up to September 15, the general public will be voting for its favourite Natura 2000 Award finalist, and the application that receives the most votes will win the coveted European Citizens' Award.  Since the Natura 2000 awards started in 2014, there have been no Irish winners in any category.
Please find the link for the Living Bog entry here: https://natura2000award-application.eu/finalist/4340 
Voting will close at 11.59pm on 15 September 2020.
The bogs involved in The Living Bog project (www.raisedbogs.ie) : Ardagullion Bog SAC, Co. Longford; Carrowbehy Bog SAC, Gorthaganny, Co. Roscommon; Derrinea Bog SAC, Co. Roscommon; Clara Bog SAC, Moyclare Bog SAC, Mongan Bog SAC, Raheenmore Bog SAC, Sharavogue Bog SAC, and Ferbane Bog SAC, all Co. Offaly;  Garriskil Bog SAC, Co. Westmeath;  Killyconny Bog SAC, Mullagh Co. Cavan / Co. Meath; and Carrownagappul Bog SAC, Mountbellew, Co. Galway.
Information on the Natura Award 2020  finalists is available here: https://natura2000award-application.eu/en/finalists 
Social Share