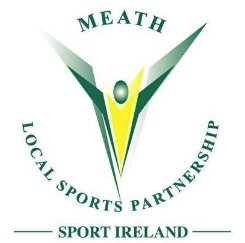 June 2020 Update from Meath Local Sports Partnership
COVID 19, phase 2 re-opening and what it means for Meath LSP and wider sporting community
Meath LSP are very aware of the restrictions still in place as part of our road map of re-opening sport and physical activity. With the lifting of some of those restrictions and whilst maintaining social distance at all times, phase 2 will see the commencement of the following activities:
Up to 15 people coming together for organised non-contact activity in the outdoors (number includes coaches/trainers)
Summer camps for children may take place
People are encouraged to cycle or walk to work where possible
People may travel within your own county, and up to 20 kilometres from your home if crossing county boundaries.
The following sports were initially identified for the resumption of activity from May 18th 2020:
| | | | | | | | |
| --- | --- | --- | --- | --- | --- | --- | --- |
|  Golf | Pitch & Putt | Tennis | Bowls | Equestrian | Athletics | Cycling | Triathlon |
| Recreational Walking / Hillwalking | Orienteering | Angling | Open water Swimming | Sailing | Rowing | Canoeing | Surfing |
Under Phase 2, the following sports were added to that list:
| | | | | | |
| --- | --- | --- | --- | --- | --- |
|  Archery | Road Bowls | Horse Shoe Throwing | Clay Target Shooting | Caving | Croquet |
| Outdoor Climbing | Sub Aqua Sport | Water ski @ wakeboard | Aero sport | Martial Arts (outdoors, non-contact) | |
A limited number of other outdoor team sports are also permitted to return to non-contact training in phase two. Sport Ireland is working with the relevant sports directly on their return to sport. Sport Ireland acknowledge that a number of sports eligible to begin in phase two may decide not to return to active or organised participation at this point. This will be a matter for each individual sport to assess.
See Frequently Asked Questions for the Return to Sport & Physical Activity under Phase 2: https://www.sportireland.ie/sites/default/files/media/document/2020-06/frequently-asked-questions_phase-two.pdf
Please see below for Meath LSP's upcoming programmes/activities:
Outdoor Dance for Over 55's
Pilates for Beginners
Community Sports Hub Navan
Men on the Move
3k-5k Podcast Programme
Online Dance Programme
Online Fitness Challenge
iCoachkids Online Programme
Meath Sports Ability Challenge
National BeActive Day
National Play Day
Dance in the Park!
What better way to keep active than dance?! Dancing improves strength, balance, flexibility and heart health.
Meath LSP's new Outdoor Dance Programme for people 55+ continues Monday 22nd June at 11am in Blackwater Park, Navan. Our dance teacher will introduce you to line dancing and the waltz. The classes are suitable for beginners. Physical distancing will be adhered to. Booking is essential as places are limited. If you are interested please contact Ruairí on 046-9067337 or email rmurphy@meathcoco.ie
Pilates for Beginners
Meath LSP are starting a four week online Pilates programme on Wednesday 24th June at 7pm on Zoom. Improve your strength, flexibility and balance from the comfort of your own home with experienced Chartered Physiotherapist Siobhan. This beginners programme (18yrs+) will cost only €10 for the 4 weeks.
There are 100 places available. Registration will open Wednesday 17th June, link will be available through our social media or by emailing Ruairí at rmurphy@meathcoco.ie
Community Sports Hub Navan 
Walking Football for Men 40+
Come and try Walking Football for Over 40's continues Tuesday 23rd June at 8pm in Blackwater Park, Navan.
Drill based, easy to play and no skill level required! Physical distancing will be adhered to. Pre-booking is essential as numbers are limited. To book please email Conor at conor.gonnelly@meathcoco.ie
Women on the Move
Women on the Move starts on Wednesday 17th June at 7pm in Blackwater Park, Navan.
This outdoor class will include a bodyweight circuit that is suitable for beginners. Pre-booking is essential as numbers are limited. To book please email Conor at conor.gonnelly@meathcoco.ie
Men on the Move
This is a physical activity programme for Men 35+. Suitable for beginners. Men on the Move will start back on the following dates:
Men on the Move Kells – Monday 15th June at 8pm in Lloyd Peoples Park
Men on the Move Navan – Thursday 18th June at 7.30pm in Blackwater Park
Pre-booking is essential as numbers are limited. To book please email Ruairi at rmurphy@meathcoco.ie
3k-5k Podcast Programme
The 3-5k Podcast programme follows the recently successful 0-3k programme. Our tutor Andrea McGuinness will lead participants in an easy to follow podcast programme that will bring you from walking/jogging to jogging/running a distance of up to 5k within six weeks.
Once you have registered, participants will receive three podcasts per week making it easy to complete each training session at a time when best suits you.
Start date is Monday 29th June and registration will open on Monday 22nd June. Cost is €10 for six weeks. Please contact Lisa at lodowd@meathcoco.ie for more details.
Online Dance Programme
Meath LSP are delighted to announce a new online dance programme featuring the song "The time of my life" from Dirty Dancing. It's one of the most famous movie songs of all time and a real favourite with teens and adults of all ages.
Our tutor Aisling Rountree will take you through a newly choreographed routine in two easy to follow sessions.
Start date is Wednesday 1st July. Registration is open from Wednesday 24th June. Please contact Lisa at lodowd@meathcoco.ie for more details.
Online Fitness Challenge
Do you want to test your current level of physical fitness and improve your muscular and aerobic endurance?
We have a FREE online fitness plan for teenagers/adults that is easy to follow with planned training sessions over three weeks. You have the option of challenging yourself to the Irish Army Fitness Test on week 4.
The Challenge:
Run one and a half miles (2.4km)
1 minute time limit to complete 20 sit-ups and 1 minute to complete 20 push ups
Each participant will receive a YouTube link by email making it easy to log on to the site at a time that suits you best.
For more information please contact Una Pearson at upearson@meathcoco.ie
iCoachKids Online Programme for Coaches
Do you want to improve active lifelong participation? Increase participation, enjoyment, inclusivity, standard of play and coaching in your club?
This online Coaching Children/iCoachKids course helps achieve all of this. Suitable for coaches of any sport. There is a mixture of theory and practical work, done through a flexible timetable. This course is fully guided by Meath LSP.
For more information please contact Una Pearson at upearson@meathcoco.ie
Meath Sports Ability Skills Challenge
Over the coming weeks Meath Sports Ability will post a series of weekly skills challenges for children and adults with a disability to try at home. These skills will include adaptations and require minimal equipment.
The challenge will be posted every Wednesday at 12pm on the Meath Sports Ability Facebook page starting Wednesday 17th June.
Don't forget to tag @MeathSportsAbility in your attempts at home!
Check out the link below for more activities/resources during this challenging time.
http://www.meathsports.ie/being-active-during-covid-19/inclusive-activities-for-children-adults-with-a-disability/
National BeActive Day June 28th
Meath LSP is passionate about getting Meath physically active and involved in sport, ensuring everyone in the community has the chance to be included. Despite the COVID-19 Pandemic, Meath LSP continues to deliver initiatives and support to keep people active.
As part of the national campaign being rolled out by Sport Ireland through the Local Sports Partnership network, Meath LSP are running a competition for the most creative National BeActive Day activity in the county so make sure to share a photo or video on social media and tag in @MeathSports and @SportIreland and the hashtag #NationalBeActiveDay to be in with a chance of winning a prize! Check out our website or social media pages for more info.
National Play Day July 4th – date for your diary! 
The theme for National Play Day 2020 is Playful Communities, Playful Homes. Keep an eye on Meath LSP website for more information on how to mark this day through active play. In the meantime, check out https://www.gov.ie/en/campaigns/lets-play-ireland/ for great ideas on active play, on being creative through play, on playing in the outdoors or playing as a family.
Social Media Channels: 
Facebook: @meathsportspartnership; Instagram: @meathlocalsportspartnership; Twitter: @MeathLocalSport
Social Share