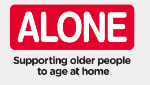 Vodafone has donated 1,000 phones to ALONE.
The aim of the phones are particularly to alleviate loneliness and isolation and/or to provide an upgrade for someone who needs one but can't afford it.
While some phones will be distributed to people who contact ALONE directly for the most part we want to ensure that we actively engage with communities at a local level to identify Older People who would benefit from a phone and refer them to us.
General criteria for all older people who would like to be nominated for this offer would be they are living alone/ and or isolated with limited to no means of communication, they do not have a smart phone or their phone has broken.
If you know someone who may benefit from this programme in Meath, please contact Danielle at meathppn@meathcoco.ie
Social Share