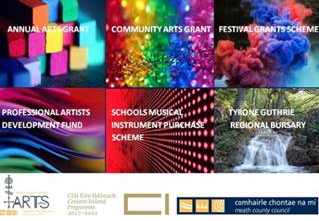 Meath County Council Arts Office is pleased to announce the launch of the Arts Act Funding – Awards & Bursaries 2020
Annual Arts Grants Scheme
This award is intended to support organisations, individuals or groups in the provision of local arts activities which enhance long-term development and sustainability of the arts in County Meath.
Community Arts Award
This award is intended to support community groups and schools in the provision of community arts projects which promote engagement and enhance long-term partnerships with professional artists.
Festival Grant Scheme
This award is intended to support arts festivals taking place in County Meath that show a commitment to quality artistic programming.
Professional Artists Development Fund
This award is intended to support Meath based professional arts practitioners in the delivery of their work and in particular, the development of new work.
Tyrone Guthrie Centre Regional Bursary Award
This award is intended to fund a week long residential stay at the Tyrone Guthrie Artists' Retreat in Annaghmakerrig, Co Monaghan. The residency is open to artists of all disciplines living in County Meath.
School Musical Instrument Purchase Scheme
This award is intended to support the development of Musical Instrument resources in both Primary and Secondary schools in County Meath.
Drama League of Ireland Bursary
This award is intended to fund a week-long residential stay at the Drama League of Ireland Summer School at the University of Limerick from 25th July 2020 to 1st August 2020. The residency is open to directors, designers and actors working in theatre, living in County Meath.
CLOSING DATE FOR ALL GRANTS: 1.00p.m., Wednesday, 25th March, 2020
Application forms available to download from:  https://www.meath.ie/council/council-services/arts/meath-county-council-arts-funding
For further information, please contact Meath County Council Arts Office – Ph: 046 9097414 or email: artsoffice@meathcoco.ie
Meath County Council Arts Office and Centre Culturel Irlandais Paris are delighted to announce the recipient of their Partnership Residency Award 2020-2021 as Brenda Castles, Traditional Musician from Summerhill Co Meath.
Brenda Castles comes from a rich background of traditional music in Co. Meath. Brenda learned from neighbour Rena Traynor (née Crotty) from Kilrush. Rena was a relative of the renowned Mrs. Elizabeth Crotty (1885-1960). Later Brenda learned from well-known concertina maestro Mícheál Ó'Raghallaigh. Television and radio work and appearances include TG4's Glaoch an Cheoil, Gay Byrne's Late Late Show as a finalist in the Young Traditional Musician of the Year competition, TG4's Hup!, RTÉ's Céilí House and RTÉ's Late Date. Playing with the Green Fields of America collective has sparked an interest in singing, harmonies, songs of emigration and songs from her native Meath. Currently Brenda is working on a solo album of concertina music.
The bursary will enable Brenda spend a month-long residency at the prestigious Centre Culturel Irlandais, Paris and includes traveI from Ireland, accommodation and a monthly stipend. Centre Culturel Irlandais' annual residency programme offers great opportunities for artists of all disciplines to tap into the resources of the CCI and the city of Paris, as well as being an important means of showcasing Ireland's dynamic contemporary culture on an international stage.
The Arts Office also wish to congratulate award winning playwright and MCC Arts Office Associate Artist Deirdre Kinahan who was also awarded a month-long artists residency directly by the Centre Culturel Irlandais Paris.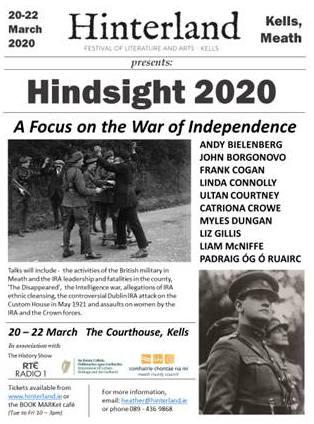 HINTERLAND: HINDSIGHT HISTORY FESTIVAL MARCH 20TH – 22ND
UPSTAIRS AT THE COURTHOUSE TOURISM & CULTURAL HUB KELLS.
We are delighted to host the inaugural Hinterland:Hindsight History Festival upstairs at the Courthouse later this month.
This is an exciting new venture for Hinterland who are collaborating with The History Show on RTE Radio 1 in the presentation of this new annual festival. The first staging of the event will focus on aspects of the War of Independence.
Four talks on Friday 20 March (from Frank Cogan, Liam McNiffe, Ultan Courtney, and Myles Dungan) sponsored by Meath County Council, under the auspices of the Decade of Centenaries, will deal with extra-judicial killings, the activities of the British military in Meath and the IRA leadership and fatalities in the county. The Friday programme will be free of charge to the public, but advance booking will be necessary.
Over the weekend some of the foremost authorities on the War of Independence in the country (John Borgonovo, Linda Connolly, Andy Bielenberg, Padraig Óg Ó Ruairc, Catriona Crowe, Myles Dungan, and Liz Gillis) will explore wider issues of the Anglo-Irish War.
A panel discussion on Saturday 21 March will offer assistance to anyone who wants to use online resources to trace the activities of members of their extended families during the 1916-1923 period.
Visit www.hinterland.ie   for details on booking for Hindsight events.
Meath County Council Arts Office is delighted to present a new exhibition by the Kells Photography Club  entitled: Meath Through the Lens
Meath Through the Lens will be on display at Toradh Gallery in Ashbourne Library and Cultural Centre from 27thJanuary until 27th March 2020.  Meath Through the Lens features the work of 22 photography enthusiasts from the region.
This exhibition presents a selection of images examining a common theme: Meath through the Lens. Each photographer approached this theme in a unique and special way.
Kells Photography Club was formed in 2017 as an amalgamation of Kells Camera Club and North Meath Photographic Society. The club meets every second Monday at 8pm in the Iona Hall, Kells. Club nights are a great mix of guest speakers, demonstrations, hands on workshops and competitions. They currently have 40+ members and new members are always welcome at every level, from complete beginners to seasoned photographers. Members can regularly be seen photographing local events such as the pink ribbon walk, Muck of Kells, Hinterland and Guth Gafa.
Meath Through the Lens will be on exhibit at Toradh Gallery in Ashbourne Library and Cultural Centre from 27thJanuary until 27th March 2020. Further information can be obtained by contacting the Arts Office on artsoffice@meathcoco.ie  or 046 9097414.
Meath County Council Arts Office is pleased to present Places, Histories and Other Matters, a solo exhibition by Helsinki based Meath artist Jane Hughes.
Originally from Navan, Jane has worked internationally as a visual artist, curator and educator in Germany and Finland for over a decade.
Following her BA in Fine Art from the National College of Art and Design Dublin in 2006, Jane went on to complete an MA in Environmental Art at Aalto University Helsinki in 2012.
Her work relates to social history and is largely researched from old photographic sources. Hughes paints from images collected in libraries, encyclopaedias, historical books, flea markets and newspaper archives; taking disregarded photographs and reincarnating them as paintings.
The artist states:
'I have a deep fascination for discovering old abandoned photographs from different parts of the world and rescuing them from obscurity, I am intrigued by the way certain images were fabricated to illicit various responses, such as idealism in a leader. I am interested in the traces of historical documentation, the invented or distorted image, the banal and the iconic. I am attracted to layers of histories, the parallel lives of people who once lived and the places they once inhabited. I want to encourage collective remembering through my painterly investigations'.
Featuring a series of 18 painted works, Places, Histories and Other Matters will be on display at Toradh Gallery 2, Kells Courthouse and Tourism Cultural Hub from 27th January 2020 and will remain until 27th March 2020.
Further information can be obtained by contacting the Arts Office at artsoffice@meathcoco.ie  or 0469097414.
Percent for Art Commission – Scoil Phádraig, Portarlington, Co. Laois: Budget €43,000
Scoil Phádraig Public Art Working Group have made the decision to commission an engaging and interactive permanent artwork or artworks that also have an element of functionality for a large green space adjacent to the school. Their main focus for the artwork is that it becomes part of space / place that the children who don't wish to engage with sport can relate to and engage with.
Various approaches and levels of engagement are welcomed as part of this Per Cent for Art project. Collaborative partnerships are also welcome, should artists wish to partner with another artist for this project
Applicants can make enquiries regarding the commission to Rina Whyte, email rinawhyte@yahoo.com  or by telephone + 353 87 238 9591.
Deadline Monday 20th April, 2020 by 12 noon
Solstice Arts Centre, Upcoming Events
For All events & booking: 046 909 2300 or solsticeartscentre.ie
Traidisiún sa Ghrianstad – Tradition in Solstice (Traditional Irish Music)
Sat 14 March, 8:00pm
Join us in celebrating the traditional Irish music of our area with renowned brothers Mícheál & MacDara Ó Raghallaigh of Rathmolyon (concertina, fiddle), sisters Bernadette & Caitlín Nic Gabhann of Ashbourne (fiddle, concertina), Fergus McGorman of Ratoath (flute). We welcome accordion player & TG4 Composer of the Year 2020 Josephine Marsh to Meath, the home of her Mother. With songs from Nollaig Ní Laoire of Dunderry, this is a rare home performance by these reputable artists & friends of Meath.  €18 /  €16 (conc)
A Day in the Death of Francis Ledwidge (Theatre)
Thurs 26 March, 8:00pm
I'm alive and dead, a voice in your head
Francis Ledwidge, soldier and poet, bridges a century and more, to speak to us in his own words of his two great loves; the local landscape of Slane and Ellie Vaughey. Blown to pieces in1917, his unique voice remains suspended forever in time, in its first flowering. He was only 29 and destined, in the opinion of Lord Dunsany, to be the poet of the age. Written by Richard Ball. Supported by Solstice Arts Centre. €16 / €14 (conc)
Opportunities for Writers 
The Trócaire Poetry Ireland Poetry Competition 2020 is open to entries
until 20 March 2020.
This year's theme is 'Standing Her Ground', inspired by the extraordinary stories of hardworking women who are holding their families together, battling enormous odds, including threats like violence, intimidation and drought, to provide food for their children and are battling to keep their children, and the earth, safe from harm.
Poets of all ages are encouraged to explore the theme, from a local to global perspective.
For updates about the competition, please visit us on our Facebook page:
www.facebook.com/poetryireland.eigseeireann  and www.facebook.com/trocaireireland ,
or follow us on Twitter: @PoetryIreland and @trocaire.
https://www.poetryireland.ie/writers/opportunities/
Social Share