Meath County Council Arts Office & AOB Arts Management presents   In the Middle of…. A music, theatre and literary evening in celebration of Mary Lavin, curated by Deirdre Kinahan
In the Middle of… is an eclectic mix of original performance to include music, theatre, readings, spoken-word and song, in an exciting celebration of the extraordinary life and work of Irish writer Mary Lavin, in a magical celebration by some of Ireland's top performing artists.
Award-winning playwright Deirdre Kinahan invites a group of brilliant contemporary artists to respond to Lavin's evocative short story collection 'In the Middle of the Fields" through their chosen artform. Artists include the legendary Steve Wickham (The Waterboys), Actress/Musician Lisa Lambe with musical accompanist Wayne Sheehy, Meath locals Singer/Song writers Michael Brunnock and SaraMai Leech, Actress Catherine Byrne (Fair City), Writer Sinead Moriarty and Lewis Kenny (Poet).
With no rehearsal and no preview…both artists and audience will experience together, the honest and immediate response to one of Ireland's most loved short story writers.
Details:
  The Courthouse, Kells – 8th and 9th January at 8.00pm. Doors: 7.30pm.
  Dublin Unitarian Church – 10th January at 8.00pm. Doors: 7.30pm.
Tickets available online at:  www.takeyourseats.ie   or  from The BookMarket Cafe, Kells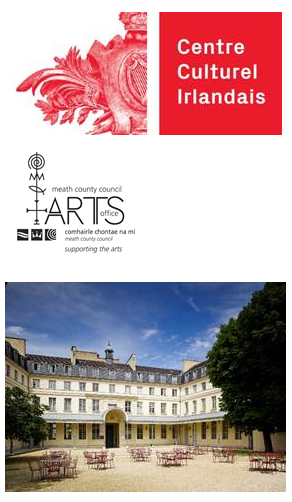 Meath County Council Arts Office in Partnership with Centre Culturel Irlandais Paris announce exciting Artists Bursary Opportunity
Meath County Council Arts Office, in partnership with the Centre Culturel Irlandais Paris, are pleased to announce an exciting  Artists Residency Bursary for artists in Meath in 2020. The bursary will enable an artist spend a month long residency at the prestigious Centre Culturel Irlandais, Paris and includes traveI from Ireland, accomodation and a monthly stipend. Centre Culturel Irlandais' annual residency programme offers great opportunities for artists of all disciplines to tap into the resources of the CCI and the city of Paris, as well as being an important means of showcasing Ireland's dynamic contemporary culture on an international stage.
Innaugurated in 2002, the Centre Culturel Irlandais is situated in the Collège des Irlandais, or Irish College, formerly home to a large collegiate community of Irish priests, seminarians and lay scholars whose origins stretch back to 1578. The CCI profiles Ireland's rich arts scene and is at the heart of Franco- Irish cultural collaboration.
The bursary is open to practising professional artists of all disciplines living in county Meath. All applications must be made directly to CCI, full terms and conditions are available from www.centreculturelirlandais.com  .
Applications must be made on-line by Wednesday 8 January 2020, 5pm GMT
Centre Culturel Irlandais, 5 rue des Irlandais, 75005 Paris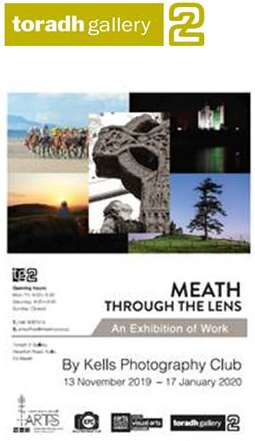 Meath County Council Arts Office is delighted to present a new exhibition by the Kells Photography Club entitled: Meath Through the Lens
Meath Through the Lens will show at the Toradh2 Gallery located in the newly renovated former Courthouse in the centre of Kells town from 13th November until 17th January 2020. Meath Through the Lens features the work of 22 photography enthusiasts from the region.
This exhibition presents a selection of images examining a common theme: Meath through the Lens. Each photographer approached this theme in a unique and special way.
Kells Photography Club was formed in 2017 as an amalgamation of Kells Camera Club and North Meath Photographic Society. The club meets every second Monday at 8pm in the Iona Hall, Kells. Club nights are a great mix of guest speakers, demonstrations, hands on workshops and competitions. They currently have 40+ members and new members are always welcome at every level, from complete beginners to seasoned photographers. Members can regularly be seen photographing local events such as the pink ribbon walk, Muck of Kells, Hinterland and Guth Gafa.
Meath Through the lens will be on exhibit at Kells Courthouse Culture and Tourism Hub from 13th November and continue through the winter until 17th January 2020.
Further information can be obtained by contacting the Arts Office on artsoffice@meathcoco.ie  or 046 9097414
Social Share