An Evening of Music, Song, Poetry & Dance with Nuala Ní Dhomhnaill, Manchán Magan, Éamon Ó Donnchadha, Tom French, Éanna Ó Cróinín, Bernadette Nic Gabhann, Jack Lynch, Nigel Davey & Na Casaidigh.
In Anam an Athar: Fr Eoghan O'Growney, Priest & Patriot
Athboy Priest, scholar, and key figure in the Gaelic revival of the late 19th century, Fr Eoghan O'Growney will be celebrated with a night of traditional music, song, poetry        and dance at Solstice.
Where:  Solstice Arts Centre, Navan
When: Thursday 17th October at 8pm
Tickets: €16 / €14 (conc)
Phone (046) 9092300 or visit www.solsticeartscentre.ie
Meath County Council Arts Office is pleased to present The Perfect Rain, a solo exhibition by Meath based children's author-illustrator Tatyana Feeney.
Originally from North Carolina, Tatyana has lived in Trim, Co Meath for the past 15 years where she draws inspiration for her art works and stories from the irregular Irish weather.
Her latest publication entitled Eva and the Perfect Rain (The O'Brien Press), follows a little girl's pursuit for perfect umbrella rain: not too windy, too thundery or too drizzly. This book and the imagery therein form the basis of the exhibition which also features accompanying artwork developed from experiencing Irish weather as a non- native.
The artist states:
'It is a record of my journey to embrace the rainy days; to recognise the beauty in the colours and textures that evolve in the landscape and environment during the rain; and to appreciate the weather through the language used to describe it, positive or negative. In Ireland weather shapes the landscape and the people. There is a beauty and a fortitude created by the rain and this is what I hope to have shown both through my book and through my artwork'.
Including a combination of mono and digital printing, The Perfect Rain will show at Toradh Gallery in Ashbourne Library and Cultural Centre from 9th September and continue throughout the autumn until the 8th November 2019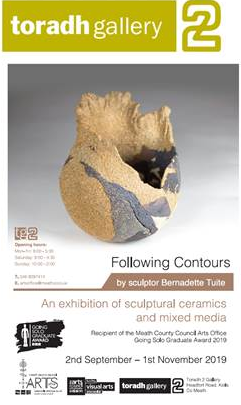 Meath County Council Arts Office is delighted to present Following Contours, an exhibition by Bernadette Tuite.
Tuite is the Meath County Council Arts Office Going Solo Graduate Award recipient of 2019.
Following Contours will show at the Toradh2 Gallery located in the newly renovated former Courthouse in the centre of Kells town from 2nd September.
The exhibition will feature a combination of beautifully hand-crafted sculptural ceramic vessels, landscape photography and an audio soundscape. Accompanying the art works will be material samples, a video and sketch books; all intended to offer an insight into how the artist works and the process behind her art.
The Meath County Council Arts Office Going Solo Graduate Award was originally launched in 2001 to assist emerging Meath artists in the earliest stages of their artistic careers. The prize includes a solo exhibition and €1,000 combined materials and purchase stipend which sees the acquisition of art work added permanently to the County Art Collection.
Bernadette Tuite, a former California based boat captain, completed an Applied Arts Degree in the Crawford College of Art and Design Cork, in 2018. Since competing her degree which focussed on ceramic design, Tuite has been awarded the prestigious Design and Craft Council of Ireland's Future Makers Award 2019 as well as the Meath County Council Arts Office Going Solo Graduate Award 2019.
Following Contours will be on display at Kells Courthouse Culture and Tourism Hub from 2nd September and continue through the autumn until 1st November 2019.
Meath Beo Autumn Series, featuring Traditional Music Artists of Co. Meath in historic settings throughout the county in October & November 2019.
All information can be found at www.meathbeo.com  ; or on Meathbeo social media sites – Facebook, Twitter & Instagram. Alternatively, Please do no hesitate to email & book your place at meathbeo@gmail.com 
Fresh International Film Festival 23 – 28 March 2020. 
The search for Ireland's Young Filmmaker of the Year 2020 is on.
CONDITIONS FOR ENTRY 2020
To be eligible for inclusion film entries must be:
The original work of schools or groups or 
individuals aged from 7 to 18
Aged 7 to 12 for the Junior section
Aged 13 to 18 for the Senior section
Completed after 25th of January, 2019 (National)
Completed after November, 2018 (International)
15 mins or less in length (Senior section)
10 mins or less in length (Junior section) 
These times are inclusive of title and end credits
Submitted with a digital still, synopsis, completed entry form and fee*
Further information & application forms available at https://freshfilmfestival.com/competition/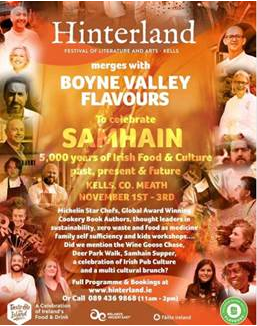 Hinterland Festival of Literature and Arts – Kells in conjunction with Boyne Valley Flavours Presents, SAMHAIN 5,000 years of Food & Culture
A weekend celebrating Irish Food & Culture, past, present & future with a wonderful array of culinary contributors.
Where: Kells, Co. Meath
When: 1st – 3rd  November
See the full programme & book tickets at www.hinterland.ie
Social Share