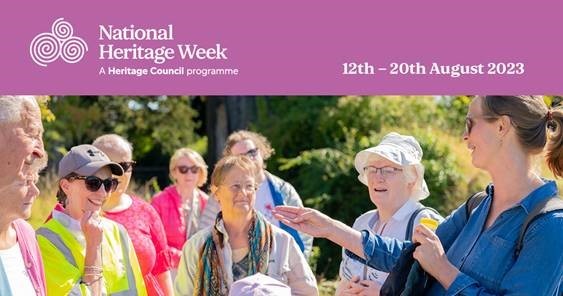 Get a chance to experience a pop-up print shop in Kells with the National Print Museum, be an archaeologist for a day at the Black Friary Medieval Family Day in Trim, celebrate Navan its People and its Past, hear about the Barn Owl Survey in Meath, enjoy a guided walk and talk on Girley Bog, visit an exhibition on 100 years of Living Heritage through Sport and attend the launch and exhibition of Bellewstown: Pictures from the Past.  These are just a few of the activities you can engage in during Heritage Week in Meath.
National Heritage Week 2023 will take place from Saturday 12th to Sunday 20th August 2023 and this year's theme is ''Living Heritage' which is defined as the practices, knowledge and skills that have been passed from one generation to the next and are still in use today.
Numerous organisations, local groups and individuals will be hosting events that celebrate the rich heritage of County Meath.  On Thursday August 17th there is an event to mark Wild Child Day where your child can learn about the 5Bs of Biodiversity – bugs, butterflies, bees, bats and birds on the Hill of Tara.  Sunday, August 20th is Water Heritage Day and there are a number of opportunities to join in a county-wide Clean Up of the River Boyne – an initiative run by a cooperative of Meath-based organisations called Boyne Valleys Rivers Action Group which includes Wild About Navan, Boyne Rivers Trust, Trim and Drogheda Tidy Towns, Sonairte Eco Centre and Gaelic Woodland Trust.
With over 60 events taking place throughout the county including walks, talks, exhibitions, family fun days and living history displays there is literally something for everyone.  Nearly all these events are free, and many are suitable for children.
'Heritage Week is a fantastic celebration of our wonderful natural and cultural heritage and offers everyone the opportunity to get out, explore and enjoy their local area. A special word of thanks to the organisers of all the events, without their hard work, dedication and voluntary commitment Heritage Week would not be possible.' said Loreto Guinan, Heritage Officer, Meath County Council.
For full details of all events taking place in Meath throughout the week please see https://www.heritageweek.ie/event-listings?q=&where%5B%5D=meath#listings
National Heritage Week is coordinated nationally by The Heritage Council in partnership with the Local Authority Heritage Officer Network and the Department of Housing, Local Government and Heritage. National Heritage Week has become one of Ireland's largest cultural events, celebrating Ireland's built, natural and cultural heritage and aiming to generate awareness, appreciation and preservation of our wonderful heritage resource.
Social Share