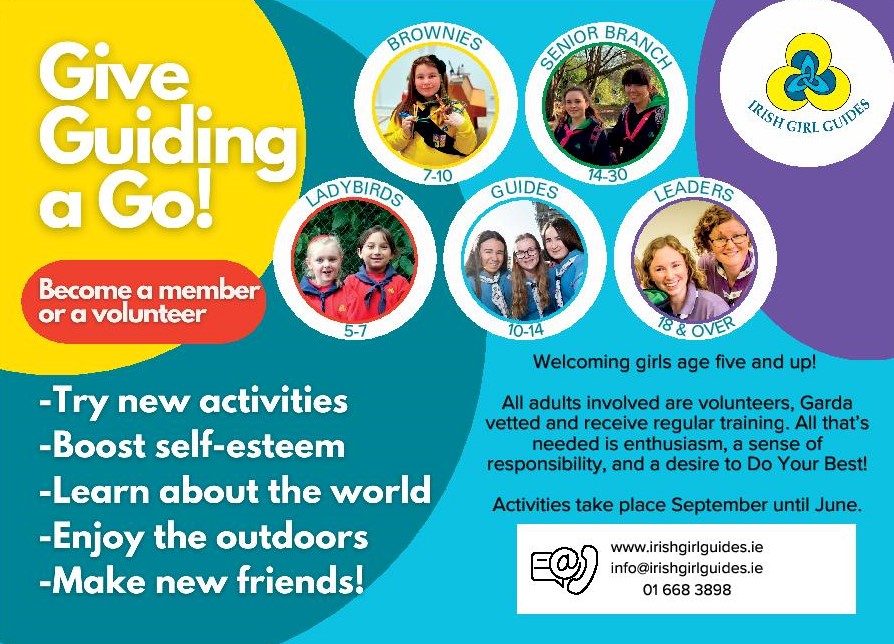 Following on from the celebration of National Volunteer Week, Irish Girl Guides are looking to recruit additional volunteer Leaders to support our increasing membership, following the downturn during the pandemic.
Why do we Lead?  https://youtu.be/nUGNJE-9mwQ
Irish Girl Guides (IGG) is an all-female voluntary organisation. We enjoy non-formal educational activities called the Journey Programme
The girls are supported by a team of Volunteer adult Leaders age 18+, some are Parents, some people who enjoy working with young people and some are women who have enjoyed Guides as children.
The groups meet during the school year for between one and one and a half hours per week, usually in a local Community Hall; they also enjoy day trips. The older groups enjoy overnight trips/camping; and even International experiences.
All activities are appropriate to their age, background and abilities. All welcome.
Ladybirds                 5-7 years old
Brownies                 7-10 years old
Guides                     10-14 years old
Senior Branch        14-30 years old
The girls take part in different activities, many they get to choose, and some are required and age appropriate. They also work towards Special Interest Badges such as Healthy Body Badge, Science Investigator, Performing Arts, Arts and Craft. Girl Guides around the world give badges to acknowledge when a girl achieves her best, in relation to a set of specific tasks.
Learn by doing their best
Grow in self-confidence
Learn new skills
Form close friendships
Develop teamwork skills
Learn life skills
Try out great activities
Gain new experiences
And most importantly, have lots of fun!
All members of Irish Girl Guides make a Promise to do their best and help other people. Be honest and kind, cheerful in difficulties, responsible, work hard; use their time wisely and look after their environment. They learn to have a voice and to make an active difference to the world. Together #givinggirlsconfidence, all ages! All that's needed is enthusiasm, a sense of responsibility, and a desire to Do Your Best! Want to get involved?
www.irishgirlguides.ie Tel 01 6683898 info@irishgirlguides.ie
Social Share