***** Due to unforeseen circumstances, we need to postpone the Roadshow originally planned for 1 March.
We will revert in due course with alternative plans.
Apologies for any inconvenience caused & we hope you will still be in a position to be involved in this event in the future******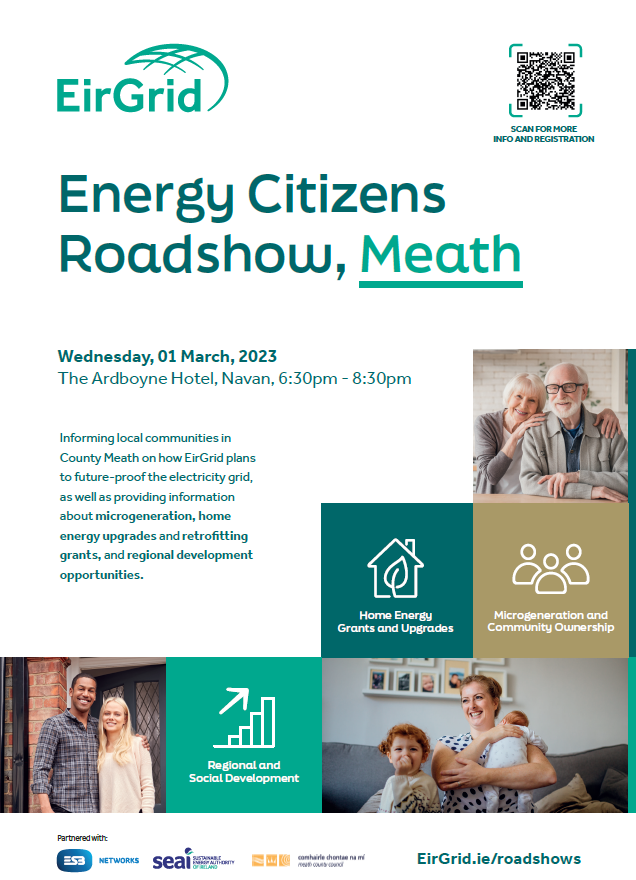 The EirGrid Energy Citizens Roadshow takes place on Wednesday, March 1 at The Ardboyne Hotel, Navan from 6.30pm to 8.30pm.
Along with a panel of experts, including SEAI, ESB Networks and Meath County Council, the roadshow will include a host of exhibitors showcasing the latest information about home energy efficiency upgrades.
To register for a free roadshow event, visit eirgrid.ie/roadshows
EirGrid, the operator and developer of Ireland's electricity grid, is set to host an energy citizens roadshow in Navan on March 1 next.
The information event will inform local communities across Meath about how EirGrid plans to future-proof the electricity grid, while ESB Networks will outline its role in connecting microgeneration, and a series of initiatives titled 'Beat the Peak'.
Sustainable Energy Authority of Ireland (SEAI), will advise on home energy upgrades and retrofitting grants and Meath County Council will outline the need for continued regional development opportunities.
Social Share