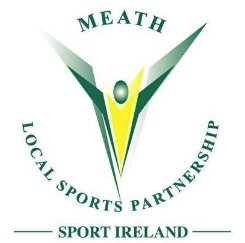 Please see Meath LSP's planned programmes below. All programmes are delivered whilst adhering to current public health guidelines.
Funding Information Workshop – Sign up today for our free webinar! 
Monday 28th June at 8.30pm (duration 1.5hrs)
To book your place: https://eventmaster.ie/event/mMzDtyVFM8
Workshop Content:
Meath LSP in association with 2into3 Consultants are delivering a Funding Information webinar for clubs who wish to maximise the number & level of grants they apply for.  Webinar is suited for sports clubs; community centres & groups – anyone who's ambition is to develop their club/facility.
The webinar will include information on:
National & local grants (both capital and small equipment) – what's available & when
Funding for coach education and volunteer training
How to source alternative funding streams – looking outside the main grant schemes and understanding how to match this criteria to your club needs
Participants will understand:
What's eligible for funding?
Who can apply?
How to prepare a grant application
The application & scoring format
How to maximise your score & success potential
How to be grant ready
For more information please contact Una at upearson@meathcoco.ie
Safeguarding 3 Designated Liaison Person (DLP) Workshop
Monday 12th July; 6.30pm-9.30pm; Zoom
The third part of the ISC Child Welfare & Protection Training Programme is the Designated Liaison Person workshop. Every club/organisation should designate a person to be responsible for dealing with any concerns about the protection of children. The Designated Liaison Person is responsible for reporting allegations or suspicions of child abuse to TUSLA Child and Family Agency and/or An Garda Siochána. It is recommended that this person is a senior club person.
It is essential that those who wish to attend the Safeguarding 3 Designated Liaison Person (DLP) Training have attended the Safeguarding 1 Child Welfare & Protection Workshop. The cost for this course is €20 per person for clubs in Meath, for participants outside Meath the cost is €30 per person. To book please call Lynn on 046-9067337 or email lynn.oreilly@meathcoco.ie.
Social Basketball for Women – Laytown/Bettystown
Meath LSP and Basketball Ireland are collaborating to introduce a new basketball initiative for women with the main emphasis on participation, fun and fitness! In a fun and social setting, women will have the opportunity to learn the key basketball skills and play in a supportive environment without the pressure of competition.
This 6-week programme is aimed towards complete beginners and those with previous experience. It is inclusive of all ages and fitness levels and will be delivered by qualified coaches.
Venues:
Colaiste na hInse, Bettystown – starting Wednesday 16th June at 7pm
St. Stephens NS, Navan – starting Thursday 8th July at 7pm
Cost: €20 for 6 weeks. For more details contact Lisa at lodowd@meathcoco.ie
Meet n'Train 
Wednesday 16th June at 10am in St. Patrick's GAA Stamullen
Meet n'Train is a "New" Outdoor Programme for both men and women that incorporates a combination of cardio, core and strengthening exercises to increase and maintain a good standard of health and fitness. This 40-minute programme is fun and an ideal way to experience a range of exercises to increase cardio fitness and help strengthen your body. Suitable for all fitness levels and especially targeted towards beginners or those returning to exercise.
There is a continuous flow to each training session where participants experience new and achievable ways to easily incorporate health and fitness as part of their daily lifestyle. So, if you're looking for a new way to get fit and meet people in a safe and controlled environment, this is the programme for you!! Cost is €20 for 6 weeks. For more details contact Lisa at lodowd@meathcoco.ie
Canoeing for Men 35+
Meath LSP in association with Ribbontail Paddlers Canoe Club are hosting a FREE Come n Try canoeing session for MEN 35+ on the Boyne Aquaduct at Longwood on Saturday 19th June at 2pm.
The Boyne Aquaduct provides for calm waters which is ideal for beginners and those who have yet to find their paddling comfort zone.
Places will be limited and booking is essential. To book a place please contact Ruairi on 046-9067337 or email rmurphy@meathcoco.ie
Mature Movers Kells (Outdoors)
This 6 week programme for adults (50+) includes activities such as seated exercise to music, resistance exercises with resistance bands, core stability, balance, seated Pilates and fall prevention exercises. Mature Movers is ideally suited o older adults as it provides for enjoyable social interaction, fun and activities. Cost: €30 for 6 weeks.
Venue: Eureka House, Kells
Start Date: Wednesday 16th June
Time: 11am
If you would like to participate in this programme please contact Luke Condie on 046-9067337.
Inclusive Summer Camp
Inclusive Multi-Sport Summer Camp suitable for children with Autism or an Intellectual Disability aged 6-12 years old.
The camp will take place outdoors over three days and will see a variety of sports and activities take place including Cricket, Soccer, Dance, Hockey & Basketball. We encourage participants' siblings to join in the activities also. All parents will be asked to remain for the duration of each day. All Covid-19 protocols will be in place and places are limited.
Date: Tuesday July 20th – Thursday July 22nd
Time: 10am- 1pm
Venue: Meath & District League Grounds Navan
Cost: €10 per family
To book a place, please contact Terry on 046-9067337 or email tdonegan@meathcoco.ie
Wheelchair Sports Camp
Meath LSP in conjunction with the Royal Rockets Multi-Sport Junior Wheelchair club will hold a 3 day wheelchair sports camp for current club members and those looking to get involved! The camp is suitable for children with a physical disability aged 6-16 years. The activities involved will include Wheelchair Basketball, Tennis & fun games.
The camp will be held outdoors in Scoil Naomh Eoin Navan and will follow the most up to date Covid-19 guidelines. For more information please contact Terry on 0469067337 or email tdonegan@meathcoco.ie
Date: July 6th-8th
Time: 11am–1pm
Venue: Scoil Naomh Eoin, Navan
Cost: Free
Inclusive Canoeing
Meath LSP in partnership with Ribbontail Paddlers Canoe club will host a series of taster events for children with a disability aged 6-18 years. The sessions will be led by coaches from the club which is based in Longwood and will give participants the opportunity to experience the feeling of being on the water.
Wednesday 30th June at 6-7pm
Wednesday 7th July at 5.30pm-7pm
Wednesday 14th July at 6pm-7.30pm
To book a place, please contact Terry on 046-9067337 or email tdonegan@meathcoco.ie
Run Jump Throw – East Meath & Navan 
Run Jump Throw is a 6 week multi-activity programme suitable for children with Autism or an Intellectual Disability. The sessions will include a variety of sports, fun games and obstacle challenges all adapted to the participants needs. The programme aims to improve the participants' fundamental movement skills and increase their confidence in participating in regular physical activity.
Meath and District League Grounds (MDL) Navan (outdoors)
Date: Monday 14th June – 19th July
Time: 4:30pm-5:30pm
Cost: €10 per family
Age: 5-12 years
St. Colmcille's GAA Piltown (East Meath)
Date: Wednesday 23rd June – 28th July
Time: 4:30pm-5:30pm
Cost: €10 per family
Age: 5-12 years
To book please contact Terry at todonegan@meathcoco.ie or call 046-9067337.
Community Sports Hub Navan – Family Activities
Saturday 26th June at 11am-12pm in Blackwater Park, Navan
Exercise based activity for parents including circuit type classes while children participate in fun games and a variety of sports. Admission is free. Places must be pre-booked.
For more information or to book a place, please contact Paul at cshfacilitatornavan@gmail.com.
Social Share