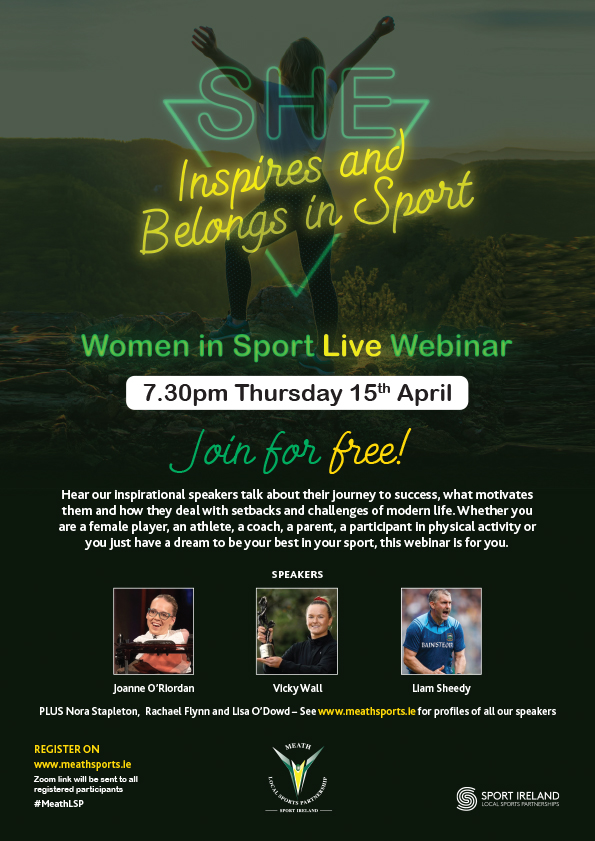 She…..Inspires & Belongs in Sport – FREE interactive webinar
Meath Local Sports Partnership are delighted to announce the line-up of excellent speakers for our upcoming Women in Sport webinar on Thursday 15th April @ 7.30pm-9pm.
Speakers include:
Nora Stapleton – Women in Sport lead with Sport Ireland & ex Irish rugby international
Liam Sheedy – All-Ireland winning manager
Joanne O Riordan – journalist and disability advocate
Vikki Wall – All-Ireland winning player with Meath Intermediate Ladies Gaelic team
Rachael Flynn – PE teacher & Meath LSP tutor
Lisa O Dowd – Meath LSP Sports Development Officer & Women in Sport lead.
For full profile of the speakers, please see http://www.meathsports.ie/she-inspires-belongs-in-sport-free-interactive-webinar/ 
The webinar is open to everyone, whether you have a personal interest in being active in female sport or physical activity, or you are a parent of a girl involved in sport, an athlete, a player, a competitor, a coach, a mentor, an administrator or you just have an interest in developing opportunities for women to develop and progress in sport – this webinar is a must for you to attend.
Our "She…Inspires & Belongs in Sport" webinar is designed to showcase the very best leaders who through their own actions provide inspiration to us on a daily basis. The evening promises to be fun & interesting and will allow for participant interaction with the speakers. Our experienced speakers will inspire the participant through encouragement, coaxing, motivating, and persuading each other to be their very best in their sport or physical activity.
Registration for the webinar is free but is limited in places. Please register before 12 midday on Thursday. Register at: https://eventmaster.ie/event/RWGJsL5h76 
Social Share