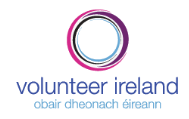 Volunteer Ireland Awards – 4 Days Left to Nominate!
https://www.volunteer.ie/events/volunteer-ireland-awards/
There are just four days left to nominate a volunteer for this year's Volunteer Ireland Awards and we need your help! This year has been challenging to say the least but one big positives has been the response in our communities. Across the country, friends, neighbours and groups stepped up to make sure no-one was left behind and we want to say thank you.
We want to recognise as many people as possible and show our sincere thanks. We know it can be hard to choose just one person but every nominee will get a special thank you card from us no matter what so why not nominate a few people? We also have a group category where you can nominate a whole group of volunteers so no-one is left out!
Why make a nomination?
Making a nomination is quick, easy and free.
Every single nominee will receive a special 'thank you' card from us to let them know that they we appreciate them and everything they do.
Most of all, you will be helping us spread our thanks and reach as many people as possible.
Volunteers never look for anything in return but it's always nice to be appreciated so help us say thanks!
Social Share