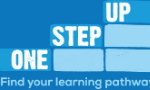 The revamped www.OneStepUp.ie website has been launched as part of an information campaign to raise awareness about the One Step Up Information and Referral Service managed by AONTAS.
The new website is more interactive and user-friendly than ever. AONTAS provides this free information and referral service under the European Agenda for Adult Learning project 'Increasing Pathways, Increasing Participation'.
One Step Up guides thousands of adult learners every year towards information sources and a range of services that support them into education.
Please click here for the AONTAS website here re FB and here re Twitter
One of the features of the website is the Calendar where you can promote any information events, such as open days or drop-in clinics you may be hosting, for free.
The One Step Up Information Booklet is another useful resource which is available online in PDF
Social Share