Meath Partnership would like to extend an invitation to anyone in Meath interested in starting their own Artisan Food or Speciality Produce business or expanding their existing enterprise, to attend a LEADER Information Workshop at;
3pm on Wednesday 18th October 2017 in Tankardstown House​, Slane.
Topics on the night will include an overview of;
LEADER programme,
application process,
evaluation process,
what LEADER can & can't fund,
application form,
supporting documentation required
procurement process
For further information, please call Jacqui on 046 9280790 ext. 225.Please help spread the word in your area! All are welcome to attend, we look forward to meeting you.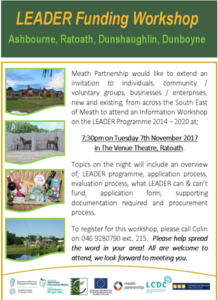 Social Share