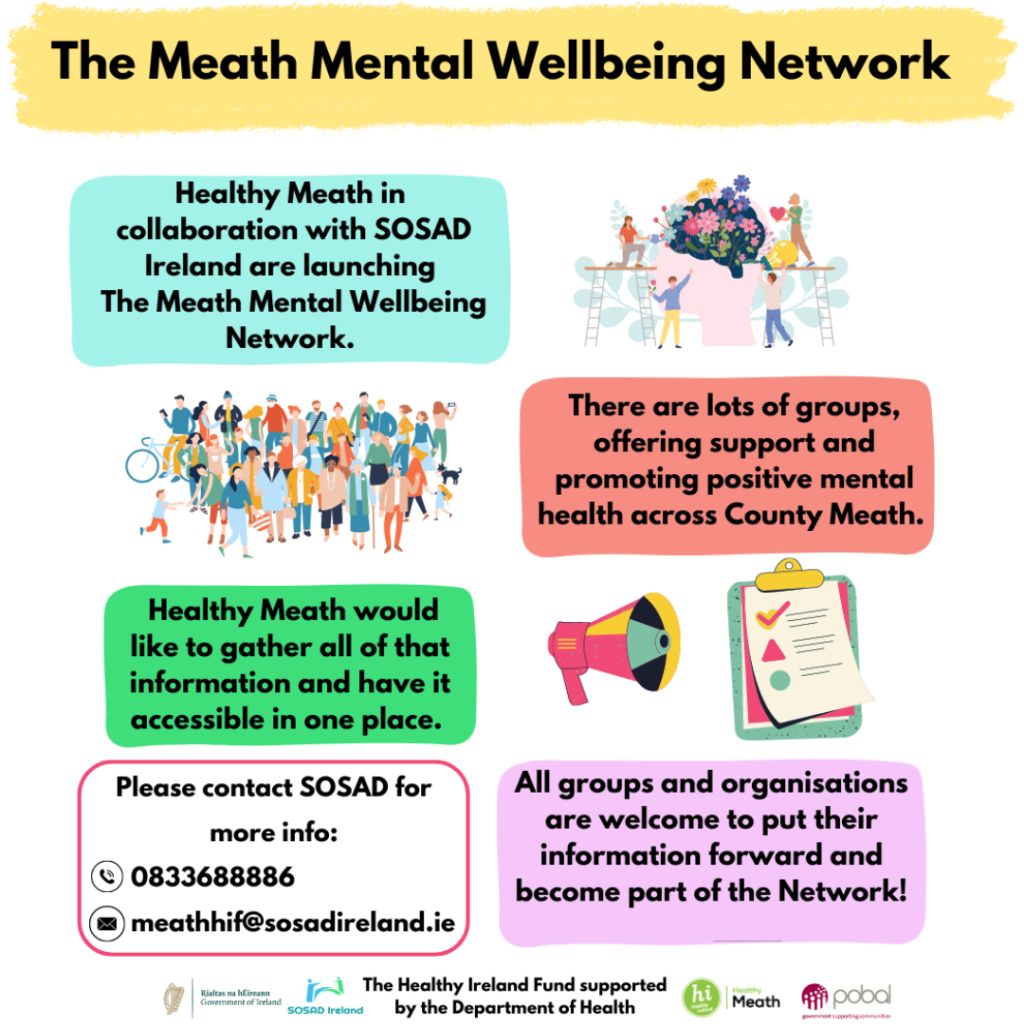 As part of the Healthy Ireland fund, Healthy Meath in collaboration with SOSAD Ireland are launching the Meath Mental Wellbeing Network.
Meath Mental Wellbeing Network
There are lots of groups offering support and promoting positive mental health across County Meath.
Healthy Meath would like to gather all of that information and have it accessible in one place.
Groups and organisations offering support and promoting positive mental health in Meath are asked to provide information about where they are, what they do, if they offer a service and how to contact them.
This information will be gathered and into a Resource Pack. Once compiled it will be publicly available on the Meath County Council website. It will also be provided to all the groups who took part, and eventually to volunteers providing support under the Wellbeing Ambassador Programme.
Interested groups can complete the short form here to have their information included in the Resource Pack.
Once the Resource Pack is ready, the countywide Wellbeing Ambassador Programme will be launched.
Wellbeing Ambassador Programme
The aim of this programme is to recruit and train volunteers from as many communities, clubs, groups and organisations as possible to become Wellbeing Ambassadors.
A Wellbeing Ambassador is a volunteer involved in their local community who will be trained to be aware of mental health issues, be a good listener, be the first point of contact for anyone who is seeking advice or who may be struggling with a problem.
The Wellbeing Ambassadors will be able to signpost people to available services, statutory and voluntary/charitable. They will have access to the Resource Pack with names and contact numbers that can be shared.
Any questions or queries please feel free to contact Carol Murphy of SOSAD.
Email: meathhif@sosadireland.ie
Mobile: 083 368 8886
This initiative is funded through the Healthy Ireland Fund supported by the Department of Health
Social Share