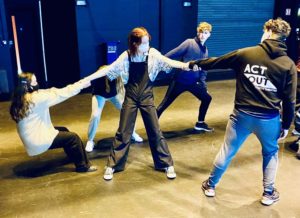 Act Out Youth Theatre is delighted to announce we are now accepting New Registrations for Weekly Workshops for the 2022/2023 year:
Time & Place:
Navan – Tuesday evenings from 18:00-19:30 – starting from 20th September @ the Solstice Arts Centre.
Dunshaughlin – Monday evenings from 18:00-19:30 – starting from 26th September @ the Pastoral Centre
Cost: €160 for whole year or €80 x 2 instalments in September & January.
Facilitators: Anthony Kinahan, Artistic Director (Actor/Theatre-maker) & Mark O'Reilly (Actor/Theatre-maker)
Previous Performance Experience is useful but not essential.
Places are limited
Registration open to new members in the Meath area of secondary school age.
Email actoutmeath@gmail.com to express interest.
If you're a young person in the Meath area of secondary school age, and you're interested in learning more about theatre, performing or expressing yourself in artistic ways, then email actoutmeath@gmail.com with your name, DOB, your parent/guardian's email and contact number & your preferred workshop location – Navan or Dunshaughlin.
You will then be added to the Act Out YT Waiting List & you will be contacted regarding vacancies.
Fees are €160 for the whole year (payable either upfront or in 2 instalments of €80 by early September & another €80 in the New Year).
For more information, email actoutmeath@gmail.com or check out the Act Out Youth Theatre Facebook page at https://www.facebook.com/ActOutYT/, Twitter @ActOutYT & Insta @ActOutYT
Quote from AOYT AD Anthony Kinahan:
"We are very excited about the upcoming year here at Act Out Youth Theatre.
Off the back of a very successful show ("deLIBERATIONs" in at the Solstice Arts Centre in April; a week-long residential in Kilkenny with Youth Theatre Ireland in July and a powerful Summer Project about Performing, Emotion & Resilience … our plans for this upcoming year are just bigger & better.
For young people in the Meath area aged 13+ that are interested in theatre, performance or expressing themselves artistically, it's a great place to come along, meet like-minded friends & have a bit of fun while also being creative."
More about Act Out Youth Theatre:
Established in October 2017, Act Out Youth Theatre's remit is to create quality theatre experiences with young people (13+) in the Meath area.  We are a not-for-profit charity, partnered with Solstice Arts Centre, Navan, Co Meath & partnered & supported by Meath County Council Arts Office.
We are also a proud member of the Irish youth theatre community and affiliated to Youth Theatre Ireland.
In the last few years, the members of Act Out have produced original, acclaimed plays (Inception, PROJECTions & deLIBERATIONs) in the Solstice Arts Centre; Stormed the Púca Festival; Had workshops with national experts, like Meath's own playwright Deirdre Kinahan (The Unmanageable Sisters; Rathmines Road) & Casting Director Louise Kiely (Sing Street; Normal People); Participated in week-long residentials in Kilkenny with youth theatres from all around the country; Had various theatre-trips and much more … & all this on top of usual weekly workshops.
We provide an annual programme of activities, responding to the needs & interests of the young people, & we pride ourselves on our ethos of accessibility, diversity & inclusion.
Our main objective is to nurture the educational, social & personal competencies of our young people ensuring our activities are of benefit to the community, in so far as our work reflects local issues & community needs.
We aim to foster partnerships within the community & to advance the arts, culture & heritage of the area with young people at the helm.
Usually our workshops run every Monday at 6pm in Dunshaughlin & every Tuesday 2 workshops in the Solstice Arts Centre, Navan, at 6pm & 7.30pm.
Artistic Director, Anthony Kinahan (Actor/Theatre-maker; Red Rock; Kin; Conversations with Friends) & Assistant AD Mark O'Reilly (Actor/Director; Melia Theatre Company).
Social Share